You can't have a basketball season without considering the entire conference, so why have Basketball Week without a MAAC preview? Staff writers Dave Connelly and Christian DeBlock took a deep dive into recent MAAC history to preview the season for every team on the men's and women's sides. We're starting today with Dave's preview of the men's upcoming season.
---
1. Iona
After a MAAC regular season that concluded with the top six teams in the conference within two games of each other, it felt like a prime year for someone not named Iona to win the MAAC Tournament and get a trip to the NCAA's. Or, Iona could do exactly what they did and win a fourth consecutive conference tournament title in a championship game thrashing of Monmouth.
Head coach Tim Cluess gave fans a major scare this offseason after a near exit for nearby St. John's, but for now, he is here to stay. Leading scorer and the conference's only ever four-time tournament winner Rickey McGill has graduated, but the Gaels return plenty of talent from last season's squad. Minnesota transfer Isaiah Washington finally received his waiver and is immediately eligible to play this season; he'll provide flashy play and immediate impact. Washington struggled to find his footing in Minneapolis, averaging only 6.6 points and 2.6 assists per game, but if he can play floor general and get to the rim consistently, he should do more than enough with the amount of offensive talent surrounding him.
E.J. Crawford, Tajuan Agee, and Asante Gist all return for their senior seasons after each averaging double-digits last season. Crawford has a great ability to get to the rack and had solid shooting splits of .504 / .385 / .816 in 2018-19. Agee will man the paint with his lengthy 6'9" frame, one that earned him a defensive rebounding rate of 24.5% last season (67th in the country). Look for Gist to assume a larger role on the offensive end and potentially make me look silly for leaving him off of any All-MAAC team consideration.
Conclusion: With Iona as the likely favorite in most preseason predictions prior to the addition of Washington, his eligibility only separates this team from the pack even further. The returning trio of Crawford, Agee, and Gist gives this team the roster continuity and winning experience that every roster craves. Unfortunately for Gaels fans, a few more seasons of similar success and it won't be long until the blue bloods come calling for Tim Cluess.
Record Prediction: 26-4 (18-2)
2. Rider
After a bit of an underwhelming campaign for Rider in 2018-19, the Broncs come into this season with practically everyone meaningful returning to a loaded squad. I may be being a tad harsh on Kevin Baggett's men since they did finish the season at 11-7 in conference play, but a disappointing first-round exit in the MAAC Tournament to Siena left fans with a sour taste in their mouth at season's end. They'll look to contend with Iona for the top spot in the conference, something they were able to capture in the regular season just two years ago.
Stevie Jordan and Frederick Scott are as solid an inside-out duo you will find in the MAAC. Jordan is an elite driver and lets it fly at an efficient 37.5-percent clip from the perimeter. He has started in 84 games for Rider and will know how to run Baggett's fast-paced offense (eighth in the country in tempo last season) better than anyone on the roster. He is also an absolute ballhawk, averaging nearly two steals per game on a team that was sixth in the country in steal percentage last year.
The challenge with Scott will be his inability to convert at the charity stripe; he's shot 54-percent for his career, which is a puzzling stat for a 37-percent shooter from three. It wasn't just Scott that struggled in this facet: Rider combined for a horrid 61.6-percent at the line last season, good for 348th in the country. Nevertheless, Scott's ability to score in the paint as well as step out and be a long-range threat will make him a key cog to Baggett's offensive schemes.
Conclusion: Rider found themselves with five players averaging double-digits last season with Tyere Marshall, Jordan Allen, and Dimencio Vaughn joining Jordan and Scott. Each has the potential to be this year's lead guy on any given night. Rider's spread out offensive attack allowed the Broncs to get their scoring in a variety of ways, causing headaches for opposing coaches to scout against. Expect more of the same here from a team that can easily rack up 80 points with their rapid tempo on any given night.
Record Prediction: 22-8 (17-3)
3. Quinnipiac
Baker Dunleavy Jr.'s second season was deemed a success by most in Hamden after leading the Bobcats to their first winning season since 2014. The loss of Cameron Young, MAAC Player of the Year last season, stings, but a plethora of returning talent can make up for it. Rich Kelly will likely take over the scoring reigns after averaging 13.2 points per game in his sophomore season and shot an incredibly efficient 45.7-percent from the perimeter. His 86.9-percent rate from the free-throw line in conference play last season was the best in the MAAC, and he was the team's leading facilitator, averaging 4.5 assists per game. However, averaging nearly three turnovers per game must improve for Kelly to be viewed as an elite passer. Junior Jacob Rigoni also returns here, giving Dunleavy a solid scoring wing in his starting lineup.
Baker Dunleavy's extreme love for the three-ball slotted Quinnipiac into second in the country in percentage of total points coming from beyond the arc, making the Bobcats a terrifying team when their shooters are hitting from deep. The team's ultimate pitfall last season was its inability to defend. At all. Quinnipiac ranked second in offensive efficiency in the conference, but second to last defensively, according to KenPom. Perhaps this traces back to a lack of size (only one player measured above 6'8"). If being 7'1" means anything, then three-star recruit Seth Pinkney can certainly make an impact. If this squad wants to elevate itself to contend with the likes of Iona and Rider, it needs to avoid a fourth consecutive season as a bottom 50 defense in the nation.
Conclusion: Quinnipiac was the best shooting team in the conference last season and took few low-quality shots. With Kelly running the floor, Quinnipiac is in good hands at the conference's most stacked position. If Pinkney can be the rebounder and rim protector the Bobcats need and Rigoni can replace the position of reliant-wing, this could be a dark horse team to win the MAAC.
Record Prediction: 22-8 (15-5)
4. Siena
As the MAAC Tournament departs from Albany for the foreseeable future, Siena wasn't able to deliver on a tournament title in front of the home crowd during their most recent five-year stint at the Times Union Center. Ironically, the Saints' best chance at contending comes when the tournament relocates to Atlantic City for the first time. Carmen Maciariello — in his first coaching gig — takes over the coaching duties following Jamion Christian's brief, one-year stint. Maciariello inherits a solid roster led by clear favorite for conference Player of the Year in sophomore Jalen Pickett. Plug in Notre Dame graduate transfer Elijah Burns and wing Manny Camper, and the Saints are more than capable of contending for a top-four or better placement in the MAAC standings.
You can't say enough about Jalen Pickett's burst onto the scene during his freshman season. The Rochester native put up gaudy nightly numbers last season including an unreal 46 point outburst in a triple-overtime thriller against Quinnipiac. He did everything but drive the bus that night by attempting 26 field goals, 17 free throws, and dishing 13 assists. He flirted with the draft in the offseason but chose to remain with the Saints for his sophomore season. With this ridiculous upside, it will be a major surprise if he finishes his college eligibility before turning pro. Elijah Burns joins the fold after averaging 5.3 points per game in four games last season for Mike Brey's Irish before leaving the program in December. He looks to take on a bigger role with the Saints and gives Pickett a sidekick that can potentially take some of the opposing attention off him. Camper will be a solid wing that will need to improve his shooting if he wishes to get the same amount of volume he received last season, and Sammy Friday will man the paint for the Saints, a bigger role than he's had in past seasons.
Conclusion: Siena is home to one of the best fanbases in the conference, one that has been anxiously awaiting an NCAA Tournament berth, something they haven't seen in a decade. But with a new head coach and a roster oozing with potential, there is all the optimism in the world that the Saints have brighter days ahead. If Pickett can continue being Pickett and the pieces around him can do enough as a supporting cast, expect the Saints to be right there come March.
Record Prediction: 17-12 (13-7)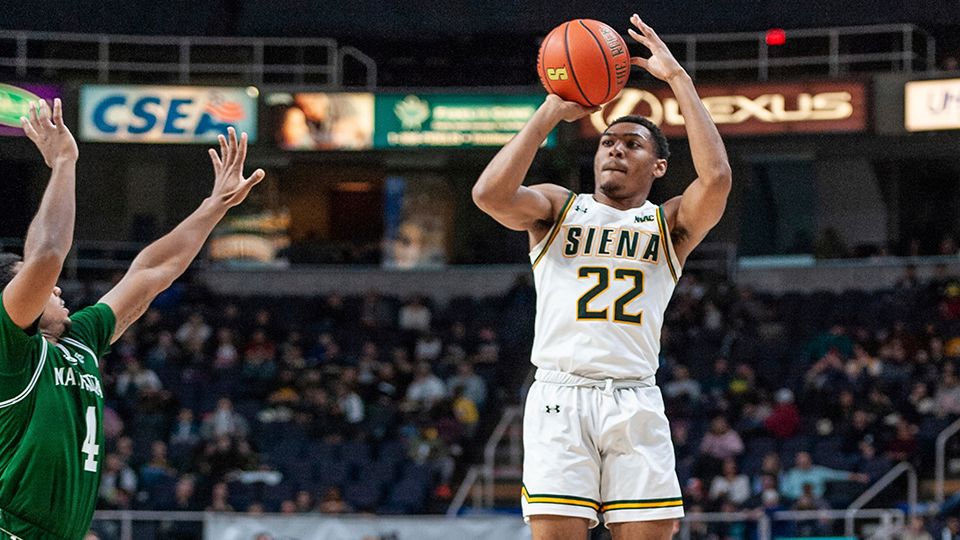 5. Manhattan
Steve Masiello's teams aren't typically known for their offense, but last season, Manhattan was borderline historically bad when they had the rock in their hands. The Jaspers finished the season dead last in the country in free throw percentage, fifth to last in turnover percentage, and bottom 50 in effective field goal percentage.
Thankfully, their saving grace was a stout defense, one that forced turnovers at the sixth-highest rate in the country. Pauly Paulicap is an absolute glove on defense and looks to be the favorite to end up winning MAAC Defensive Player of the Year come March. His lockdown defending goes overlooked through mediocre box score numbers, but there is no doubt he'll be the Jaspers' most important player this season.
Averaging 57.3 points per contest a year ago — good for second to last in the nation — the Jaspers had no player average more than 9.7 points per game. Six-foot-nine-inch freshman forward Warren Williams showed some potential after hitting 57.1-percent of his shots from the field. It's hard to determine who else will be a key contributor in the offense, but look for the likes of Tyler Reynolds, Tykei Greene, or Ebube Ebube to take a step forward.
Conclusion: The Jaspers have a significant limitation when they step onto the court: their inability to score points on the offensive end. If they continue to play in games where they never reach the 50-point threshold (something they did eight times last season), then I may have given Masiello's squad way too much love with this ranking. But Masiello is a solid coach who has won in the past; if he can get this offense to perform any better, his stubborn defense will be able to stop any conference foe and win them some crucial ball games.
Record Prediction: 14-15 (10-10)
6. Monmouth
What a roller coaster ride Monmouth gave their fanbase in 2018-19. After going winless in their first 12 games to open the season, King Rice was able to rally the troops and finish the conference season above .500 and earned a six seed in the MAAC Tournament. A dream run of three wins in three days catapulted the Hawks to the championship game where they fell victim to a masterful offensive performance from Iona. The run may have taken the attention away from the season's horrid start, but there were a lot of holes in Monmouth's play last season and I'm sure King Rice hopes that this season's roster continuity can help amend some of last year's troubles.
Rice returns eight of his top ten scorers from a season ago and can likely build on what was a sad excuse for an offense. Ray Salnave will look to bring the scoring punch for the Hawks at the point guard position but will have to improve upon his 30.3% from deep in order to become more efficient. The Hawks shot a combined 29.7% on the outside as a team, good for bottom ten in the nation. He also struggled with protecting the ball, averaging 2.6 turnovers per game, something that isn't considered ideal when you only average 2.8 assists per game. Deion Hammond will join Salnave in the backcourt and isn't much of a bundle of efficiency himself. Hammond is a capable scorer; if King Rice knows what's good for him, he'll have these guys putting up 1,000 shots per day. Look for seniors Mustapha Traore and Sam Ibiezugbe to fill in the frontcourt after the graduation of Diago Quinn.
Conclusion: This is likely a middle of the pack team with a respected coach that inherits a team with a putrid offense and a solid defense. It will be enticing to watch whether Rice can use his roster's experience to send out even a below-average offense, a major step in the right direction from what they displayed last season. The lack of depth in the frontcourt is also a concern, but in a league run by guards, the Hawks look to be in a good place in the backcourt.
Record Prediction: 14-17 (9-11)
7. Canisius
After a second season finishing above .500 in conference play, Reggie Witherspoon has put together an impressive 26-10 record in the MAAC through his first two seasons. A good-not-great season last year saw the Golden Griffins finally making it out of the quarterfinals, losing to Monmouth, a team they took down both times they faced in the regular season. The transfer of Takal Molson to Seton Hall is brutal and the loss of Isaiah Reese to the pros makes this offseason gut-wrenching. This is a transition year, bottom line; they blew chances last year, which makes the timing of these losses all the more frustrating.
Nevertheless, there are still games to be played and Malik Johnson will likely be the focal point of them. The senior is the team's leading returning scorer and will have to shoulder a lot of the workload on a roster that does not bring much to the table. Only four players that saw over 10% of minutes in games a year ago return, leaving many wondering where the missing production is going to come from. Scott Hitchon or Jalanni White will have to make a massive leap forward for there to be any contention here. A major concern lies in the lack of depth on the roster, something that can become crucial as the season grows older and players need rest. Freshmen Armon Harried, Jacco Fritz, and Akrum Ahemed will be called upon to make immediate impacts in their debut seasons. Fritz is a 6'10" product of the Netherlands that could see some minutes soon in a MAAC that doesn't often need to defend that level of height.
Conclusion: Outside of Johnson, there isn't a ton to ooh and ahh at on this Canisius roster. Witherspoon will have his hands full spending a majority of the season likely giving major minutes to freshmen in a conference loaded with experience. Expect a down year in Buffalo, but the Griffins can use the season to learn and determine a core that can be built on for the future.
Record Prediction: 9-21 (7-13)
8. Marist
The Mike Maker era in Poughkeepsie wasn't as successful as many had hoped, accruing just 28 wins in his four seasons with the Red Foxes. A rare intraconference coaching change by John Dunne saw him leave St. Peter's for Marist in a move that was a bit of a surprise to most. One season and 12 wins later, Dunne was able to give Marist fans their most successful season since Jeff Bower was at the helm. Unfortunately, a regression may be inevitable here; the Red Foxes return only two starters from last season's squad and restock with a boatload of transfers and freshmen.
It's hard to pinpoint where the primary scoring will come from for Marist this season, but Darius Hines was a steady floor general for Dunne a year ago and will hope to make a strong sophomore-leap in production. He'll have his work cut out for him on improving a 40.9-percent shooting clip from the field along with only a 1.2:1 assist to turnover ratio. Tobias Sjoberg returns to bring an experienced big to a Marist roster that is bigger than in years past with six players standing 6'7" or taller. While Sjoberg will look to retain his starting role at the five this season, he may see some competition in Charleston Southern transfer Jordan Jones. He started 20 games as a sophomore with the Buccaneers while shooting 61/83 (!!!) from the field. He will look to take on a similar role here with the Red Foxes. JUCO transfer Michael Cubbage and Santa Clara transfer Matt Turner will look to fill the voids left behind by the mass exodus of a senior class featuring Brian Parker, Ryan Funk, and Isaiah Lamb.
Conclusion: John Dunne has his work cut out for him this season with plenty of newcomers on the roster. It's tough to see this team mesh in time to overachieve from this ranking, but the talent looks to be enough here for the team to improve as the chemistry strengthens throughout the season. It will likely be more of the same in Poughkeepsie with yet another finish in the bottom half of the conference, but a roster with only one senior proves that there is a bright future ahead for the Red Foxes.
Record Prediction: 9-20 (6-14)
9. St. Peter's
St. Peter's suffered their lowest win total since the 2012-13 season after a 10-22 season that ended in heartbreak in a narrow two-point loss to Iona in the MAAC Tournament quarterfinals. Shaheen Holloway will look to avoid another down year in his second season as head coach in Jersey City, but the roster takes a mighty blow with the graduation of Davauhnte Turner. Even with a veteran like Turner in the backcourt, the Peacocks' Achilles heel was a ridiculous turnover rate of 23.3-percent, a number that ranked 346th in the country. If St. Peter's wants to avoid an even worse season than last year, they'll need to work on taking better care of th­e ball.­­
A major void will have to be filled by senior guard Quinn Taylor who averaged 7.8 points and 5.6 boards per game as Turner's right-hand man. Samuel Idowu is also gone, a solid presence in the frontcourt that was a double-digit scorer in 17 games last season. Sophomore Kenechukwu Ndefo was a silver lining in a dull season, but his indefinite suspension that was handed out back in September keeps them from seventh or eighth in these rankings. St. Peter's was home to the nation's highest block rate at 17.7-percent but this can be attested to the combined 3.6 blocks per game that Idowu and Ndefo contributed. Neither of them will be out there on opening night, so expect that rate to regress significantly, leaving a middle-of-the-pack defense without its two best rim protectors from a year ago.
Conclusion: Last season was not a fun one for Peacocks fans; unfortunately, it's not looking like 2019-20 will be much different. Holloway will have to put together a lineup on opening night without three of his top five scorers last season, something that may cause significant growing pains. Although solid recruits Hassaan and Fousseyni Drame instill some hope into St. Peter's, the growing pains will likely be inevitable and Holloway's squad will likely be looking to avoid the basement of the MAAC in 2019-20.
Record Prediction: 7-22 (5-15)
10. Fairfield
After placing sixth in the MAAC two seasons ago and making a Cinderella run to the MAAC championship game just two seasons ago, last season was a hard crash back down to Earth for the Stags in an ugly 9-22 campaign. A loss to a lowly Manhattan team in the first round capped off the worst season in Fairfield under Sydney Johnson since a 7-24 record in the 2014-15 season. Less than a week following the loss, Johnson was shown the door, leading to the hiring of former Rutgers assistant Jay Young. A bottom three finish in the conference looks unavoidable.
Neftali Alvarez was a complete overachiever and silver lining in Fairfield in his freshman campaign, which made it an absolute gut punch when he decided to transfer to Mercer this offseason. All-MAAC big man Jonathan Kasibabu graduated after a solid career, leaving the frontcourt bare and underwhelming. Junior Wassef Methnani will receive plenty of attention in the paint and will look for support from new frontcourt mates Vincent Eze, a Maine transfer, and Tshiefu Ngalakulondi, a junior from St. Bonaventure. Landon Taliaferro will likely be an all-conference selection come March. The senior transferred from Laramie County Community College prior to last season and gave the Stags a steady scoring option by converting 12.3 points per game. Expect the Colorado native to get closer to 15 points per game this season as his usage will likely skyrocket. Junior Taj Benning is a built guard that can get to the rim with his size and quickness and will likely see his usage increase as well. Fairfield had troubles getting to the line last season and I don't see a lack of frontcourt depth helping change that any time soon.
Conclusion: Jay Young will be given a few seasons to introduce his recruits and culture to the team, so there is little to no pressure to make anything happen this season. A rebuild will be the outlook for a skimpy roster that will play plenty of its possessions through Taliaferro. Anything above ninth should be considered a success for a team that should worry more about teaching and experience than results in 2019-20.
Record Prediction: 8-21 (6-14)
11. Niagara
It's been an interesting offseason for the Niagara faithful after a Chris Casey firing led to a promising hire in Patrick Beilein, son of former Michigan head coach John Beilein. He was a hot commodity on the mid-major coaching carousel and the Purple Eagles were able to land one of the more promising coaching hires they have had in a long, long time. Fast forward to about two weeks ago when Jon Rothstein of CBS Sports reported that Patrick Beilein would be stepping down as Niagara's head coach for personal reasons. His father John tweeted out his support for his son and fans are left to wonder what could have been with the younger Beilein on the sidelines.
Greg Paulus now rises to the occasion after being appointed by Beilein to be one of his assistants. He inherits a Niagara roster that holds little to no expectations to shake anything up this season. He will have to heavily address the team's sheer inability to defend a lick a year ago by clamping up on the three-point line, an area where they were torched at a 38-percent clip by opponents. The departure of seniors Marvin Prochet and Dominic Robb takes away an inside-outside core that was able to keep this offense afloat for the majority of the season. James Towns returns to upstate New York and will likely be the focal point of the offense in his senior season. His 37.9-percent shooting from the field will need some improvement, especially if he will be getting increased attention from opposing defenses. Raheem Solomon and Marcus Hammond will look to make a sophomore leap and help provide depth in the backcourt along with Toledo transfer Justin Roberts.
Conclusion: Greg Paulus will be put in a similar situation as Fairfield's Jay Young by having a few seasons to bring his recruits in and infuse the culture that they think can win ball games in the long term. He will also get a bit more leeway after being thrown into a coaching job just 15 days prior to the season opener at Drexel. This team won't be pretty this year, but brighter days are hopefully ahead for the Purple Eagles and its fans. Paulus won't be able to win right away, but I have a hunch that he may be the knight in shining armor for Niagara's rebuilding hopes.
Record Prediction: 5-26 (4-16)
Conference Awards
Player of the Year: G Jalen Pickett, SO, Siena
Coach of the Year: Tim Cluess, Iona
Defensive Player of the Year: F Pauly Paulicap, JR, Manhattan
Newcomer of the Year: G Isaiah Washington, JR, Iona
---
Check back in later for Christian's preview of the women's MAAC season.
Edited by Will Bjarnar & Amelia Nick